Becker BK-2
This is a helluva lot of knife.
That being said, you'll have to decide if you're in the camp that believes that it's better to have it and not need it or if it's better to travel light. Personally, I think of it like the Laplanders of Finland — I carry both. Typically I'll carry a heavy, badassery knife like the BK2 while always having a smaller companion nearby to do the more surgical tasks. I mean, are you ready to baton with a 2″ folder?
No doubt, Ka-Bar has a great reputation and this Becker BK2 knife won't disappoint if that reputation is what got you interested in it. It's durable, hefty and made to stand up to a lot of abuse. This is a good bushcraft knife all around.
Specs:
KaBar Becker BK2 Companion
10.5 inches
5.5 inches
1095 Cro-Van Steel
57-58
Full Tang
Saber, Plain edge
.25 inches
Drop Point
Black Traction Coating
Grivory
Allen Screws
Varies – all nylon to kydex cover with nylon belt attachment
None. Some sheaths feature an exterior pocket.
USA
Generation 2 models feature an exposed glass breaker on the butt.
~$70
Ka-Bar Becker BK2 Campanion Fixed Blade Knife
Benchmade Bushcrafter Sibert Buck TOPS CSAR-T Cold Steel Survival Rescue Knife Enzo Trapper ESEE 5 Fallkniven F1 Swedish Military Grohmann #4 Survival KaBar Becker BK2 Companion Mora Bushcraft Black Ontario Blackbird SK5 Schrade SCHF9 Extreme Survival Spyderco Bushcraft G10 TOPS Brothers of Bushcraft Fieldcraft
Mouseover for summary of specs
The Pros:
You'll have to try like hell to break this knife. I mean, seriously try. At this price, I'm not sure you can beat this knife in terms of just pure strength and willingness to endure terrible hardship. Plus, I love that it's made in the United States.
The Cons:
On the flipside, this isn't really the knife to handle a multitude of typical, smaller chores that range from pulling a sliver to opening a box (well, without scaring the hell out of anybody). With strength comes weight, and this may not be ideal for the ultralight crowd. Plus, there's a fair amount of grumbling on the Interwebs about the grivory handles which are basically hardened plastic. I personally don't mind it, but it has spurred a fairly robust after market of custom replacement scales for the Beckerheads.
Features:
The Ka-Bar Becker BK2 knife is designed as an all-around camping and hunting knife. It has a burly blade and a very ergonomic grip.
The blade measures 5.5 inches long in total. It has a drop-point design. The knife has a choil which aids in sharpening.
The blade is made out of 1095 cro-van steel. It has a hardness of 56-58 on the Rockwell scale. It's common steel for bushcraft knives and is one of the most common among Ka-Bars knives in general. Given that Ka-Bar has a rather storied reputation for making survival/combat knives, one need have no doubts about the suitability of their steel. It does rust rather easily, however, so be sure to give it proper maintenance.
The total length of the knife is 10 ½ inches. This is longer than some bushcraft options but might be just right for people who like a bit more heft in their hand when they pull out their knife. The solid feel of this knife—and a lot of other Ka-Bar offerings—have Ka-Bar a very respected company and they do tend to live up to their reputation most of the time. This is one of their better knives, to be certain.
The handle on the Becker BK2 has a lanyard hole. The handle is made out of Grivory. This is a good surface where grip is concerned and is very sturdy, but is also surprisingly light. There are color options for the handle, including brown and black. The blade itself is coated with a black finish that makes it non-reflective. This is excellent for people who hunt or who may be spending part of their time outdoors observing animals and who don't' want anything on them that could flash and spook them.
The Becker BK2 comes with a limited lifetime warranty when purchased, so the manufacturer obviously has some faith in what they put on the market and that's never a bad thing. The sheath is glass-filled nylon and it's durable.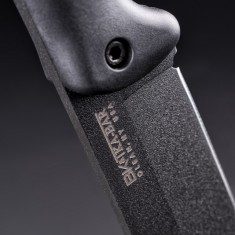 What Is the Becker BK2 Good For?
The Ka-Bar name is very much associated with knives that are as good for combat as they are for prying open a stuck door or cutting cables. This knife is in that tradition. It's a very sturdy and dependable blade made out of steel that can hold an edge and, when you push it too far, that can take a new edge with surprisingly little labor.
This knife is great for bushcraft enthusiasts who are certain that, whenever they head out into the wilderness, their knife is going to take some abuse. The thickness of the blade along demonstrates that this knife was made to stand up to abuse.
This knife as a very nice, basic design to it that should be great for most uses out in the wilderness. It also comes at a competitive price point, but it's expensive enough that taking it for a test drive would definitely be worth the effort before you buy. It's beefy, so people with large hands may really like the generous feel of it. The design is plenty agile in the hands of someone with smaller hands, as well, however.
The Becker BK2 is essentially what would happen if you took the best elements of the classic Ka-Bar design and made it more practical for bushcraft work. It's all of the toughness in the Ka-Bar knives channeled toward survival tasks rather than combat, essentially.
Ka-Bar
Ka-Bar has been around since 1898. The company is famous for their fighting knives, particularly those carried by the USMC during World War 2 and all the way up until today. If you think that only gives them credibility as a fighting knife manufacturer, think again. The original Ka-Bar blended excellent properties for utility into its design and is still renowned for being an all-around great survival tool. The Becker BK2 just takes the survival element a bit further and is a more specialized blade from a great manufacturer.
Here are some similar knives for your comparison
| | | | | | |
| --- | --- | --- | --- | --- | --- |
| Image | | | | | |
| Title | Ka-Bar Becker BK2 Campanion Fixed Blade Knife | Schrade SCHF9 Extreme Survival Knife with Fixed 1095 High Carbon Steel Blade and Black Kraton Handle and Sheath | Morakniv Companion Fixed Blade Outdoor Knife with Sandvik Carbon Steel Blade, Military Green, 4.1-Inch | Cold Steel SRK Kraton Handle, Black Blade (Concealex Sheath) | Gerber 22-01629 LMF II Black Infantry Knife with 4.8-Inch Blade |
| Price | $69.29 | $33.53 | $11.50 | $73.83 | $52.00 |
| Rating | | | | | |
| Reviews | Read Reviews | Read Reviews | Read Reviews | Read Reviews | Read Reviews |
| Link | More Info | More Info | More Info | More Info | More Info |
Product prices and availability are accurate as of Oct 14 7:54:16 UTC but are subject to change. Any price and availability information displayed on the merchant site at the time of purchase will apply to the purchase of this product.
Here's what people are saying about the Becker BK2
A bolt of excitement will shoot up your spine the moment you grasp the handle and remove the cardboard shipping sheath from it and realize you're holding a tractable survival knife that is thicker than a pry bar.

The BK2 is an absolute BEAST! You can put this knife through just about any torture test and it'll come out ready to kick Chuck Norris' butt.

So I have really mixed feelings about this knife. On the one hand, the quality and ergonomics are fantastic. But I still struggle with it because of its size. I feel like it's too much knife for some tasks, and not enough for other tasks.
If you enjoyed this review, please subscribe for my newest content