ESEE 5
Big ol' slab of steel, anyone? Anyone?
With a 11″ of 1/4″ 1095 high carbon steel sandwiched between linen micarta, the ESEE 5 is one of the most recognized and capable bushcraft knives ever made. From soup to nuts, this knife is built for any tough time you're going to throw at it.
Specs:
ESEE 5
11 inches
5.25 inches
1095 carbon steel
55-57
Full
Saber, Plain or Serrated
.25 inches
Drop Point
Powder Coated – Various colors (OD, black, orange, green)
Canvas Micarta
TORX screws
Kydex with clip plate (ambidextrous)
None
USA
Glass Breaker, Bow Drill Divot, Spine Jimping
~$189
ESEE Knives ESEE-5 OD Plain Blade w/ Canvas Micarta Handle
Click on the knives you'd like to compare side-by-side then click "display"
Benchmade Bushcrafter Sibert Buck TOPS CSAR-T Cold Steel Survival Rescue Knife Enzo Trapper ESEE 5 Fallkniven F1 Swedish Military Grohmann #4 Survival KaBar Becker BK2 Companion Mora Bushcraft Black Ontario Blackbird SK5 Schrade SCHF9 Extreme Survival Spyderco Bushcraft G10 TOPS Brothers of Bushcraft Fieldcraft
The ESEE 5 is fully loaded! The finish on the inch and half wide blade is powder coating which means you won't have too many maintenance issues of using a high carbon steel blade. But, that being said, the edge should still be oiled to prevent rusting. Plus, although it's tough as nails, powder coating will chip if beaten down. Plus, remember that if you want to use a ferro rod on the spine of your ESEE then you'll have to grind a bare spot in order to throw a spark.
This is a beefy knife (16 ounces – knife only), so you may need to downgrade to an ESEE 4 for smaller hands. It comes in a couple of different color schemes, but ESEE 5 uses canvas micarta exclusively.
Here are the color and blade combinations:
ESEE-5P (Black Blade, Plain Edge)
ESEE-5S (Black Blade, Partially Serrated)
ESEE-5P-OD (OD Blade, Plain Edge)
ESEE-5S-OD (OD Blade, Partially Serrated)
For Venom Green Blade w/ Orange Handles
Add -VG To Item #. (Available In Plain Edge Only)
The sheath is Kydex with an adjustable sheath tensioner, paracord lanyard (with cord lock), and drain hole. The sheath also features an ambidextrous clip plate, so don't worry about right hand/left hand issues. Also, the mounting grommets makes it MOLLE ready with a wide range of mounting options.
What is the ESEE 5 good for?
Well, it's good for just about everything. Since the ESEE 5 is such a big knife, it's going to excel at serious camp chores, but might be a challenge for anything detailed if your hands aren't dexterous enough. For extreme or survival situations, this is absolutely the type of knife you're going to want because it's generally much easier to use a big knife on a small task than a small knife on a large task.
To overcome this, I always recommend carrying a small pocket knife (my personal favorite is a Moore Maker cowboy knife) along with a large bushcraft blade. With this, you get the whole range covered.
ESEE is a well-respected bushcraft knife manufacturer that field tests every design thoroughly prior to production. Their knives have been produced since 1997 out of a need to make the perfect jungle survival knife that wasn't too big and thin like a machete, or too small like many sheath knives. With this in mind, you could call the ESEE 5 a "Goldilocks" knife — this one is juuuuust right.
ESEE stands for Escuela de Supervivencia (School of Survival) Escape, Evasion. The ESEE 5 was designed by wilderness survival experts with decades of bushcraft experience who train military and law enforcement personnel to survive and thrive in extreme situations.
With some models of ESEE clocking in at almost $200 a pop, you need to do your homework. This knife is not for an armchair warrior or for somebody who babies his gear. This is a slab of high carbon steel that your kids are going to fight over when you're dead.
Here's what people are saying about the ESEE 5
I just received my new ESEE-5 in the mail. This thing is a beast! Although I was fully aware of the specs, I am stills suprised with its weight and thickness. That being said, I don't see either of these as negative attributes.

This is 100% Made in the USA and ESEE's lifetime, no-questions-asked warranty is unbeatable. They will honor their warranty even if you bought it 20 years used.

Amazing knife, great weight, the steel is tough as hell. Cut a couple birch trees down with this swinging it axe style. You will need to condition your hand to the knife though, the canvas micarta handle will rip skin off with extended use on your first couple of outings

Here are some ESEE 5 options for your comparison
| | | | | | |
| --- | --- | --- | --- | --- | --- |
| Image | | | | | |
| Title | ESEE Knives ESEE-5 OD Plain Blade w/ Canvas Micarta Handle | ESEE-5 Serr Olive Drab Textured Poweder Coated Blade Drop Point Style 1095 Carbon Steel-57 Rc | ESEE Knives 5POG Bright Orange Blade Model 5 Survival, Escape, Evasion Fixed Blade Knife with OD Green Canvas Micarta Handles | ESEE / RAT Cutlery Junglas 10″ Knife with Sheath | ESEE-5 Serrated Black Blade |
| Feature | O.A Length: 10.88″Blade Length: 5.25″OD Plain BladeWeight: 16 ounces (Knife Only)Handles: Canvas Micarta w/ Bow Drill Divot | | 10 7/8″ overall length5 1/4″ 1095 carbon steel bladeOrange powder coat finish | Overall Length: 16.5″Blade Length: 10.38″Cutting Edge: 9.75″Blade Width: 2″Weight (Knife Only): 23 Ounces | |
| Price | $189.33 | $199.94 | $157.37 | $170.00 | $175.30 |
| Rating | | | | | |
| Reviews | Read Reviews | Read Reviews | Read Reviews | Read Reviews | Read Reviews |
| Link | More Info | More Info | More Info | More Info | More Info |
Product prices and availability are accurate as of Nov 25 16:52:33 EST but are subject to change. Any price and availability information displayed on the merchant site at the time of purchase will apply to the purchase of this product.
Here are some more ESEE 5 color and blade options: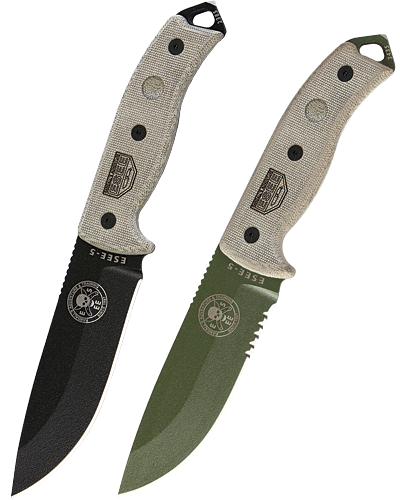 If you enjoyed this review, please subscribe for my newest content